Mobile 49er ID
49erNext students may request a UNC Charlotte ID card (49er ID) to be able to access UNC Charlotte resources.
---
49er ID card allows access to:
---
Setting up your 49er ID card
A photo is required to print your card. Follow these steps:
Snap a picture of yourself on a plain white backdrop
Upload it to our online portal under the Profile tab

Crop the image around your head
Submit the photo online
Here is an example of an acceptable image: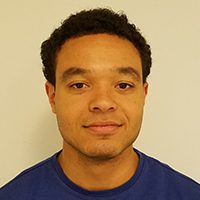 Note that this is a clear, in-focus, color photo taken against a white background, cropped from just above the top of the head down to the collarbone. Full photo submission guidelines, instructions, and the upload link are available on the Auxiliary Services website
---
The 49er account may be used at over 100 locations including:
All campus dining locations including athletic events and theater concessions
All campus retail locations: Barnes & Noble at UNC Charlotte Bookstore, NinerTech, Campus Salon, Union Station and REPROS Copy Center
Atkins Library (fines)
Parking and Transportation Services
Mail & Package Services
Campus vending machines and Smart Markets
Self-service copiers and pay-for-print printers in the library and labs
---
How to deposit funds into your 49er account
Online: 49er Account
In person at the 49er Card Office in the Auxiliary Services Building or at the Student Union ID Card office
By mail: Send check or money order to the 49er Card Office, 9201 University City Blvd., Charlotte, NC 28223. Be sure to include the student's UNC Charlotte ID number and make checks payable to UNC Charlotte – 49er Account.
VTS machines: Are located in the Student Union dining area and first/second floor of Atkins. See this page for more information aux.charlotte.edu/VTS.